Special Note:
If you would like to back Duchess's New Project, you have until April 12th 2016 to contribute on Kickstarter:
Everybody Loves Duchess: We're Making a New CD!
————-
Weather wise, this was not a great day in New York with the cold rain and wind from the Hudson. I arrived early to have a good seat at Mezzrow, a small jazz club located in a basement on West 10th street.  Hopefully, the few persons waiting there had shelter underneath a staircase leading to the 1st level.  The club was not open yet and we could hear Hilary Garner and Ehud Asherie fine tuning some songs.
It was my first time at this venue. As I went in, I noticed how small and narrow this club is with 30 to 40 seats at the most. With an old 1923 Steinway in a corner, there is barely room for another musician or singer.  It feels more like you have been invited to one of the artist's house rather than in a club. Opened in September 2014, Mezzrow favors intimate performances of piano solos or duos and is managed by Smalls also on 10th street across 7th avenue.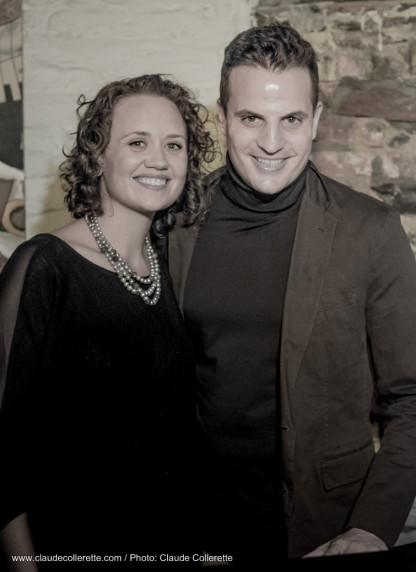 With elegance, simplicity and a disarming charm, Hilary Gardner started the first set with an up tempo version of "I Wish I Knew" while Ehud Asherie offered inspired accompaniment and soloing at the piano. I was already in awe at what would be a delightful evening of music.
They followed with two classics standards: "Alone Together" by Arthur Schwartz and "Little Girl Blue" by Rodgers and Hart. Ehud Asherie pointed out that Alone Together is a great song that is too often heard as a never ending version in a jam session and consequently is unfortunately disliked by singers in general.
As the performance went on, I could sense a great complicity between these two artists. They really care about the material they play and include in their repertoire not so often heard songs like "A Ship Without A Sail" again by Rodgers and Hart and "Make Someone Happy" by Comden and Green.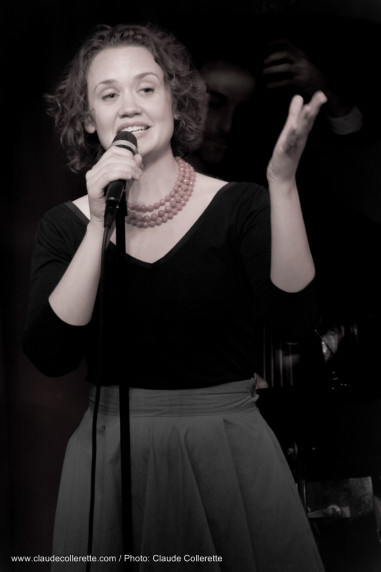 Clarinetist Evan Christopher, a special guest, performed three numbers with the duo. The first song this trio performed was "Moon Ray" a beautiful gem written by Artie Shaw and mostly forgotten. (A Youtube search reveals that there's not too many vocal renditions of this song introduced in 1939 by Helen Forrest.) It was followed by "Azalea" a song written by Duke Ellington as a tribute to Louis Armstrong. (A Youtube search reveals that this song is buried among thousands of Iggy Azalea clips!)  "You're Lucky To Me" by Eubie Blake was the last of the three numbers they performed together.  I was delighted to discover this great clarinetist.
Ehud Asherie is a virtuoso whose style draws inspiration from the great pianists of the 30's and 40's and a master of the stride tradition. Hilary Garner has a wonderful voice and a presence without artifice.  She simply sings with heartfelt care to the lyrics.  Their musical symbiosis was much needed to add warmth to this cold rainy day in New York.
Unfortunately, I couldn't stay for the second set as I already had a reservation to see Joyce Moreno and Dori Caymmi at Birdland.   Of course, I'll be back !
---
Evan Christopher and Ehud Asherie recently released a great CD intitled "Gems by the piano giants" with vocals by Hilary Gardner on three songs. Hilary Gardner is also a member of the vocal trio Duchess and sings regularly with the George Gee swing orchestra (appearing at Swing 46 Jazz & Supper Club in Times Square).  For more information follow the links below.  Many performances by Hilary Gardner and Ehud Asherie at Mezzrow are also available on Youtube. I've added links for songs heard at Mezzrow on that Tuesday Night.
To know more about these artists:
Hilary Gardner:
Ehud Asherie:
Evan Christopher:
Duchess Trio:
George Gee:
Mezzrow:
 Videos selection on Youtube:
 « AZALEA »: HILARY GARDNER / EHUD ASHERIE at MEZZROW (May 18, 2015)
« A SHIP WITHOUT A SAIL »: HILARY GARDNER / EHUD ASHERIE at MEZZROW (March 17, 2015)
« LITTLE GIRL BLUE »: HILARY GARDNER / EHUD ASHERIE at MEZZROW (March 17, 2015)
Hilary Gardner with Evan Christopher's Clarinet Road – Moonray – NY Hot Jazz Fest Stage 2016
« SWEETHEART / WAITRESS IN A DONUT SHOP »: HILARY GARDNER / EHUD ASHERIE at SMALLS (April 7, 2013)
« MANHATTAN »: HILARY GARDNER and EHUD ASHERIE at MEZZROW (March 17, 2015)