C'est la deuxième fois que j'ai la chance d'assister au spectacle mensuel de Jason Robert Brown à New York.  Chance, car les billets s'envolent rapidement.  Auteur / compositeur fabuleux de spectacles musicaux sur Broadway (The Last 5 Years, Honeymoon in Vegas,  The Bridges of Madison County, 13 …), Jason Robert Brown poursuit sa résidence au Subculture, singulière salle de spectacle sur Bleecker St à New-York.  C'est avec un réel plaisir qu'il nous présente sans prétention des pièces de son vaste répertoire (et parfois de nouvelles chansons), le tout interprété en compagnie d'un(e) artiste de Broadway.
L'invitée de ce lundi 22 janvier 2018 était la très talentueuse Carrie Manolakos qui a notamment joué dans la comédie musicale « Mama Mia » sur Broadway.  Carrie Manolakos a également fait sensation sur Youtube avec la reprise de « Creep » du groupe Radiohead que je vous invite à écouter :
https://www.youtube.com/watch?v=aZ5ZclZTeTU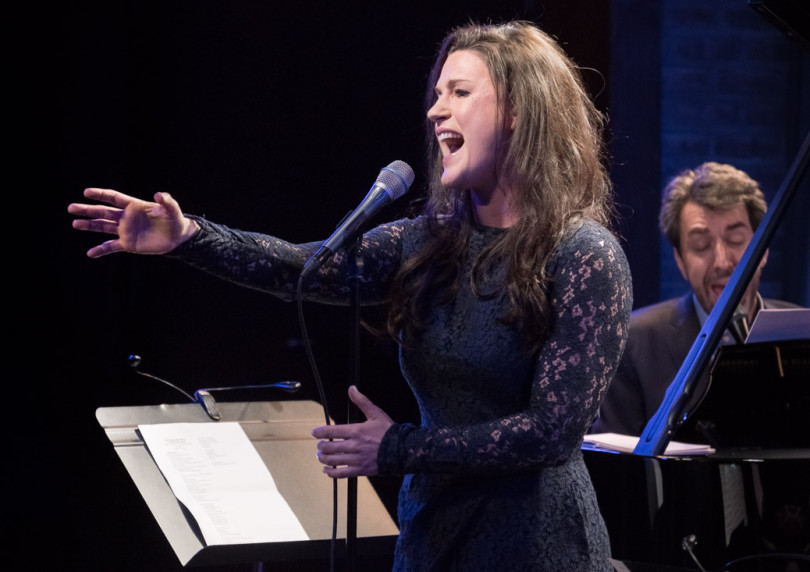 C'est en toute simplicité que Jason Robert Brown fait son entrée sur scène accompagné de ses fidèles musiciens, les « Legendary Caucasian Rhythm Kings ».  Alors, que l'introduction d'une pièce a connu un petit dérapage, il a tout simplement décidé d'arrêter le tout afin de reprendre du début comme si on était entre amis, chez lui.
Généreux, il laisse beaucoup de latitude à ses musiciens pour des solos ainsi qu'à son invitée Carrie Manolakos qui a eu l'occasion d'interpréter l'une de ses compositions intitulée « I Should Have Told You ».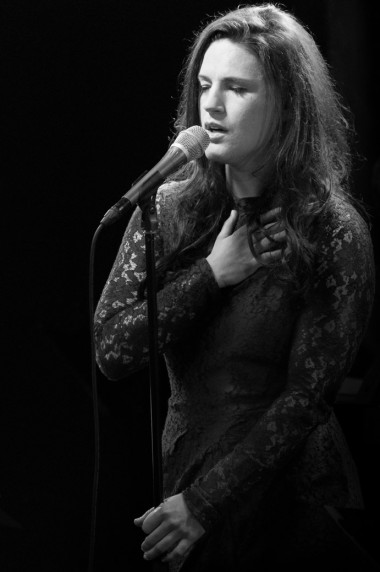 Excellent pianiste, il nous a offert un hommage à son père en interprétant en piano solo « On The Sunny Side of the Street » (à lire sur son blog).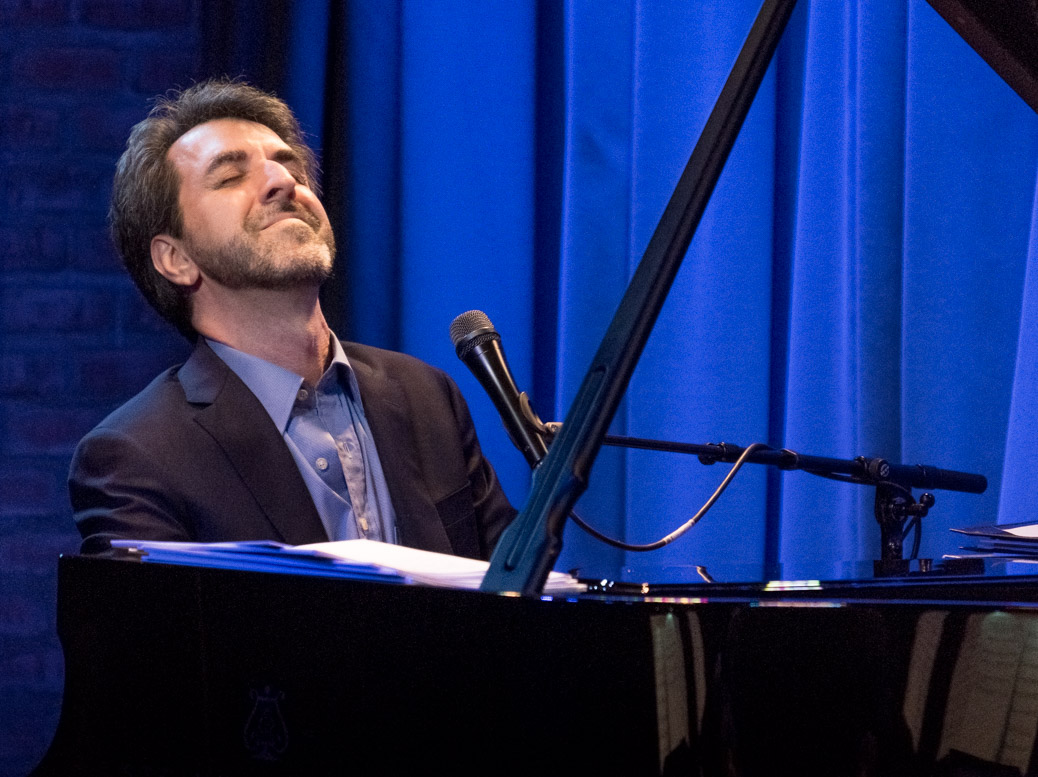 De toute évidence, Jason Robert Brown adore être sur scène entouré de ses musiciens et de ses fans.  Encore une fois, il s'agissait d'une soirée musicale remplie d'émotions laissant dans nos têtes des chansons qui nous habitent et nous accompagnent tout le reste de la soirée, et même plus.
A surveiller, la sortie du prochain CD de Jason Robert Brown en mars 2018!
Sutton Foster sera son invitée en février.  En entendant ce nom, je me suis dit que les billets seront vendus très rapidement. Effectivement, mais une deuxième représentation a été ajoutée le même soir, samedi 24 février 2018. Au moment d'écrire ces lignes, il reste quelques places debout.
Un merci tout spécial à la direction du SubCulture pour les autorisations photos.
Quelques photos réalisés lors de cet évènement:
Voici quelques liens pour découvrir Jason Robert Brown lors de vos prochaines visites à New-York.
Le SubCulture :
http://subculturenewyork.com/event/jason-robert-brown-with-sutton-foster/
Le blog de Jason Robert Brown:
http://jasonrobertbrown.com/2018/01/24/residency-set-list-manolakos-mania-12218/
Quelques liens vidéos sur Youtube :
A Song About Your Gun (Jason Robert Brown)
https://www.youtube.com/watch?v=8DgHyNy05rU
Kelli O'Hara and Steven Pasquale Record « One Second and A Million Miles »
https://www.youtube.com/watch?v=Qz7KyvxuVTg
The Last Five Years @ Town Hall 9/12/16 – « Still Hurting »
https://www.youtube.com/watch?v=TzGPx0W04YI
Finalement un lien vers ma chronique sur la dernière représentation de Honeymoon in Vegas