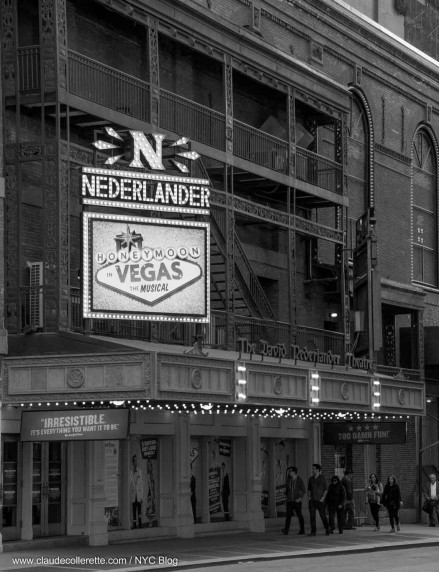 In this Broadway musical adaptation of the movie « Honeymoon in Vegas », Jack Singer goes to the "Forest of the disappointed mothers" to get relieved from his mother's curse to "Never get married".  In a harsh Broadway reality, it seems that nothing happened to save this excellent musical from closing, not even a plea or visit to the "forest of the disappointed producers -1".
They were so many great moments in this show that it's simply incomprehensible that it closed after a short run of 3 months. From Buddy Rocky (David Josefsberg) a bigger than nature Las Vegas crooner, to Sapphire de la Tour (Katie Webber) playing harp with her breasts, Jack's haunting mother Bea materializing here and there during the show (i.e. popping out from a store counter at Tiffany's) or one of the ensemble girl just saying "Vegaaass".  Of course the main characters, Betsy's (Brynn O' Malley) and Jack's (Rob Mc Clure) were so loveable and moving: him unable to commit because of his mother's curse, her waiting patiently for him to pop the question. He finally does (sort of) and they decide to go to Vegas to get wed. But voilà, enters big casino's boss Tommy Korman (Tony Danza) who sees Betsy as the re-incarnation of his dead wife and comes up with a wicked plan to make her his.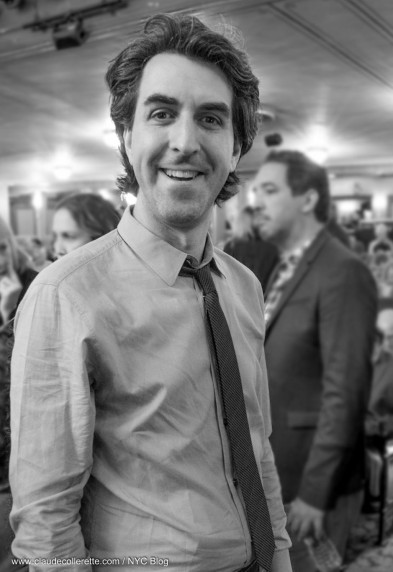 There are exceptional musical numbers composed by Jason Robert Brown (2 Tonys for Parade and Bridges Over Madison County) with big band arrangements by Don Sebesky (3 Grammys). "Betsy's getting Married", "A little luck", "When You Say Vegas", "The Invitation" and "Out of the Sun" are a few that come to mind. These songs stick with you after the show (a rare quality) and out of the blue you find yourself humming these silly tunes for no reason at all while you are in line at the grocery cashier.
Tony Danza was brilliant as Tommy Korman, the mischievous casino's boss.  His interpretation of "Out of the Sun", a song about his late wife who died of skin cancer ("I might have saved her with a higher S.P.F.") was inspired and hilarious.  My favorite musical number was "A Little Luck" which he sang beautifully with his soft baritone voice, complete with a tap dancing routine. The first time I saw the show earlier in the week, I realized how much Tony Danza genuinely loved to be a part of this show. I noticed he stayed in the wings when the show was over, listening to the big band finale with a big smile on his face, while other performers were gone to their dressing room and the crowd had already left the theatre.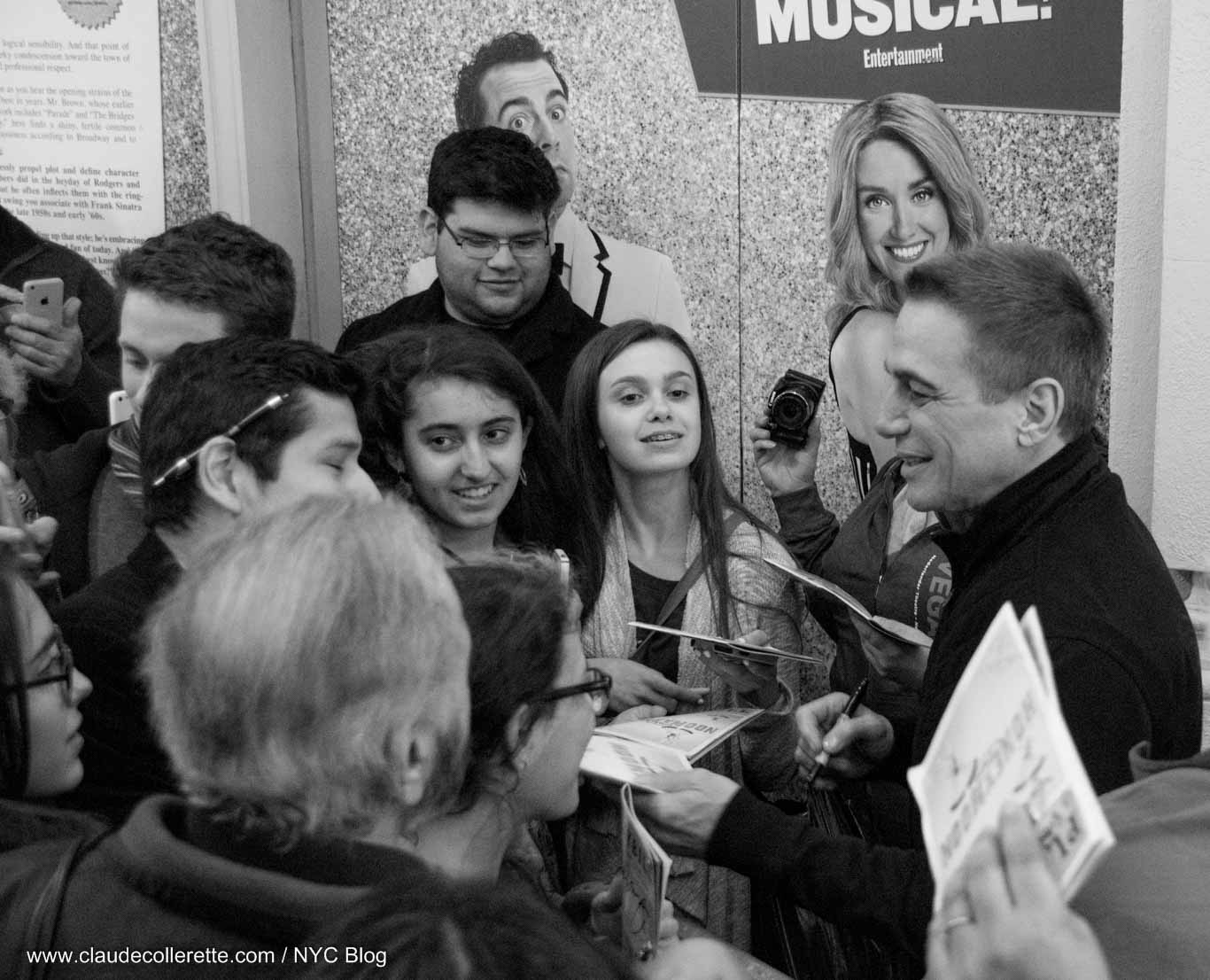 The last performance on Easter Sunday, April 5th, was very emotional for everyone.  Extra kisses on the cheek from Betsy (Brynn O'Malley) to Jack (Rob McClure) in the first number "I Love Betsy", made it difficult for him to sing it for the last time and for both of them to hold their tears.   There was impromptu friki-friki "hands in the pants" moves by Mahi (Catherine Ricafort) which made Jack jump a little bit higher than usual.  I suspect there was real alcohol in Betsy's drink in Hawaii.  We were treated to a special appearance by composer Jason Robert Brown who played the piano with the band in the 2nd act's instrumental opening.  As the audience cheered him on, he took the ukulele and played the intro chords to the next song while the big band was moving off stage.  At the end of the show, Rob McClure and Brynn O'Malley brought Mr. Danza back on stage for a last and well deserved standing ovation.
Sadly enough, actors greeted their fans for the last time after the show, outside the theater as they had done for the last 3 plus months.  It seemed especially hard for Mr. Danza who first went straight to his limo but changed his mind and came back for autograph, pictures and exchange a few words with fans who praised him for his performance. He seemed to be touched by all the attention, but nothing could really cheered him on.
As I took a walk by the Netherlander theatre the next morning, moving trucks and crew members were already at work dismantling the set.  I guess all is left of this delightful show, is a forest of disappointed fans, staff members and actors.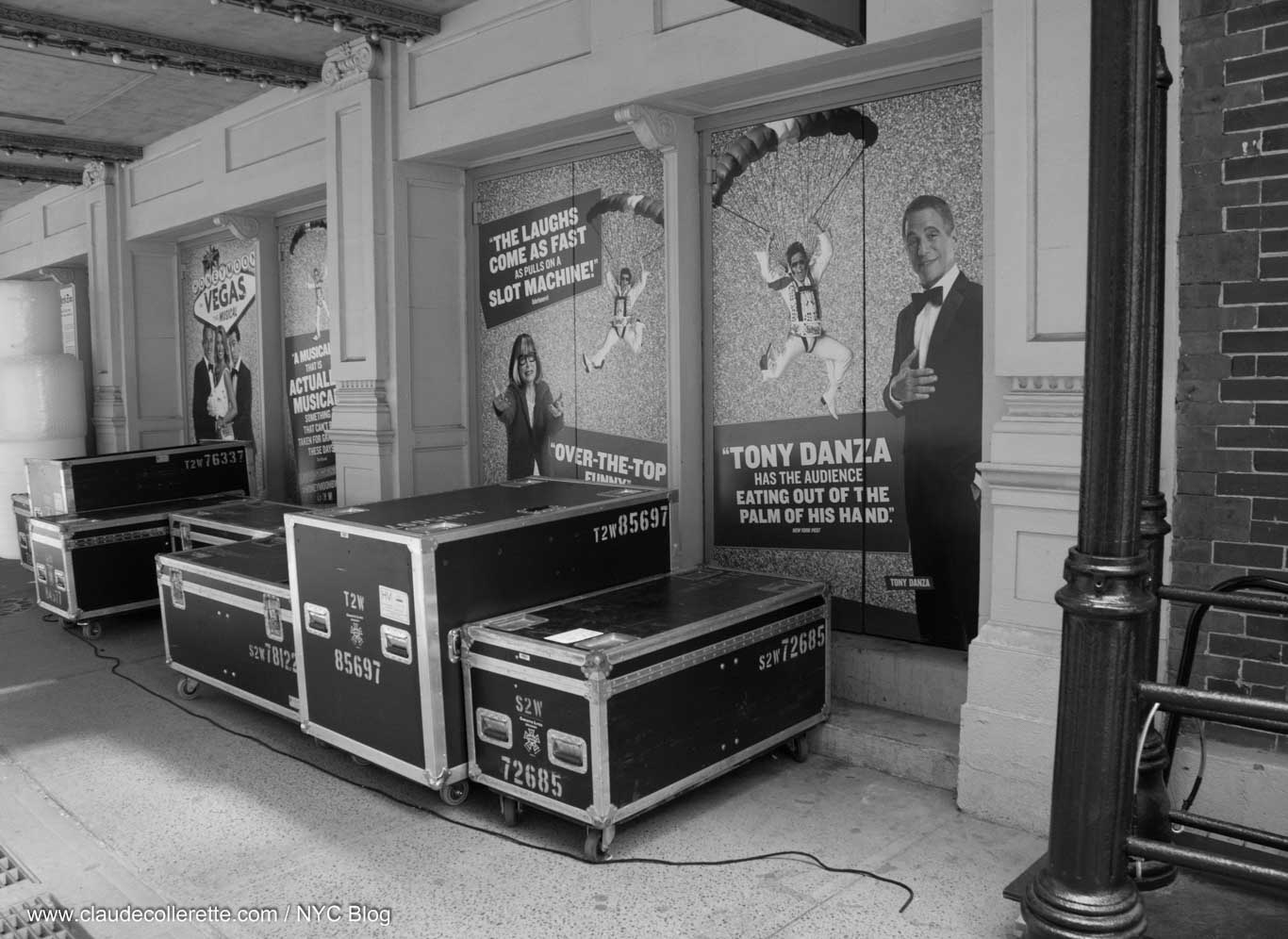 Check these links (while they last) for show excerpts and interviews:
Official musical montage:
https://www.youtube.com/watch?v=EGvDYqK3nJg
« When You Say Vegas » | Honeymoon in Vegas
https://www.youtube.com/watch?v=ma-gpUEYpR4
The Making of the Cast Album | HONEYMOON IN VEGAS
https://www.youtube.com/watch?v=j_lwfZd20Q0
A little luck – In Performance | Tony Danza (New-York Times)
http://www.nytimes.com/video/theater/100000003454047/in-performance-tony-danza.html
Honeymoon in Vegas: Conversation & Performance with composer Jason Robert Brown at the piano and members from the cast Tony Danza, Brynn O'Malley, Rob McClure.
(For die hard broadway fans and musicians this video runs 1h50 long but so informative!)
"I Love Betsy" sung by Rob McClure at 19:40
"Out of The Sun" sung by Tony Danza at 54:30
"Anywhere but here" sung by Brynn O'Malley at 34:30
"When You Say Vegas" sung by Jason Robert Brown at 1:45:40
https://www.youtube.com/watch?v=Fxi9ukW8K-k
When You Say Vegas – Jason Robert Brown with Charlie Rosen's Broadway Big Band
https://www.youtube.com/watch?v=zm9qwcsUdFA
-1 According to a recent New-York Times article, 75% of Broadway productions never achieve profitability.  There must be many disappointed producers left in this forest…